Nanostructured Materials and Components Department
The "Nanostructured Materials and Components" department brings together the most fundamental research carried out at the IEMN, including the activities of the groups :

The studies concern thin films, heterostructures, periodic structures (2D, 1D, 0D), optics, acoustics, optoelectronics, nanotechnologies and organic and bio-inspired electronics. Experimental and theoretical work is carried out in concert in these different areas.
These topics are an integral part of most of the IEMN's flagship projects: Life On Chip (NCM, Physique), Telecom UHD (EPIPHY, Physique, SubLambda), Smart Energy (EPIPHY, NCM, Physique, SubLambda), Neuromorphic Technologies (NCM), IoT (Physique, SubLambda).
MATERIALS
Elaboration and characterization of organic/inorganic composite nanomaterials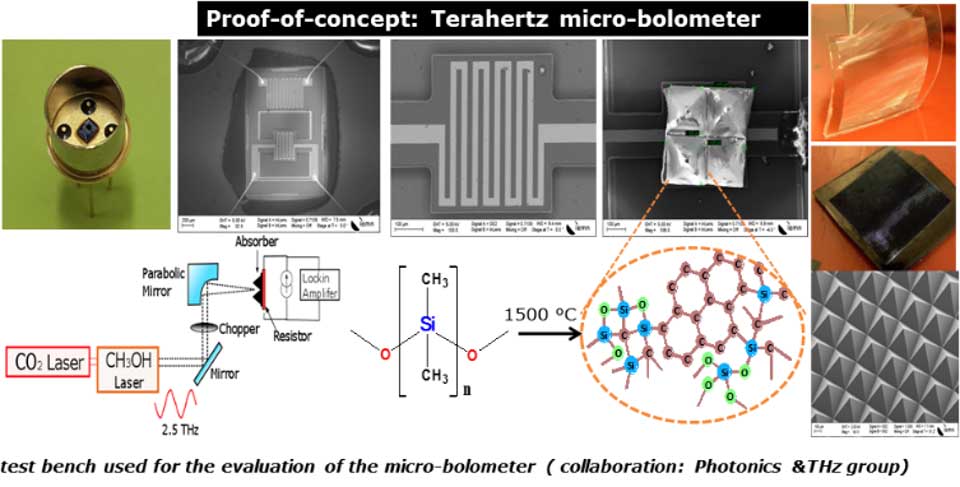 - Carbonaceous materials for THz electromagnetic absorption
- High temperature thermoelectric materials
Structure and dynamic properties of materials
- Thermodynamics and physicochemistry of nanostructured systems, macromolecular aggregates and biomolecules at finite temperature and pressure and under stress (mechanical, chemical) by numerical simulations
- The range of physico-chemical phenomena of interest extends from supramolecular order to interfacial adhesion and aggregation, microscopic mechanics and radiation damage in biomolecules.