Master Networks and Telecommunications (MRT)
The Master Networks and Telecommunications, backed by IEMN, offers two possible paths to train engineers specializing in communicating electronic systems (SYSCOM) and telecommunications (TELECOM). This qualifying course also develops an active pedagogy designed around projects, internships and seminars. The courses are structured in blocks of skills and knowledge defining the core of expertise in the sector of electronic systems of RF communications and fixed and mobile telecommunications.
Les ingénieurs SYSCOM sont des experts dans la conception et la caractérisation électronique haute-fréquence (les radiofréquences RF et les hyperfréquences) utilisée dans tous les systèmes actuels de communication : objets connectés IoT, bluetooth, WIFI, téléphonie cellulaire (4G, 5G), identification sans contact (étiquette RF, RFID, NFC), … Les compétences acquises pendant la formation leur permettent de répondre aux développements de ces applications et de s'adapter aux futures technologies.
Blocks of skills and knowledge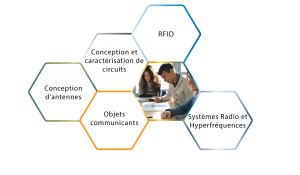 - Manage your personal, technical and scientific project
- Design communicating electronic circuits and systems
- Mastering CAD and characterization tools
- Mastering digital circuits and information processing
The engineers TELECOM are experts in fixed (FTTH fiber optics, for example) and mobile (2G, 3G, 4G, 5G) telecommunication systems that carry both voice and data and enable increasingly varied services such as mobile telephony, high-speed internet connection, digital television or even object-to-object communications. The course trains executives to respond to the constant evolution of these services and the opening of new markets offering numerous opportunities for equipment manufacturers in the sector, operators as well as application providers.
Blocks of skills and knowledge
- Manage your personal, technical and scientific project
- Designing a fixed and mobile operator network
- Analyze the performance of a fixed and mobile operator network
– Piloter le déploiement d'un réseau d'opérateur fixe et mobile
– Traiter les signaux de communications numériques
See the department website for the RT Master's degree: here
Master's degree requirements
The training is accessible to any holder of a Licence mention EEEA (Electronics, Electrical Energy, Automatism) or a Bachelor's degree in Physics. This mention is attached to the EEA department (Electronics, Electrical Engineering and Automation) of the Faculty of Science and Technology (FST) of the University of Lille.
The TELECOM course will be opened in double-diploma with the Polytechnic University of Cartagena (UPCT) in Spain from the start of the 2020 academic year. M1 students will spend their entire second semester abroad.
See internship opportunities online.'

To be noted
The Master's program is co-accredited with Centrale Lille for the M2 program on both tracks.
It has an agreement with the Institut Supérieur de l'Électronique et du Numérique (Junia ISEN) to host final year students.
This Master's degree can be prepared in alternating years either under an apprenticeship contract or a professionalization contract from the first year. The alternating rhythm of the student employee is then 1 week of training at the University and 1 week of training in the company.
Finally, the master's degree is labeled by the FiGuRe network* (Engineering Education by Research Universities) and can therefore be carried out as part of the Cursus Master en Ingénierie (CMI). The CMI is a coherent 5-year university program, backed by an existing Bachelor's and Master's degree, reinforced by additional teaching units. Thus, selected students take additional courses from the first year of the Bachelor's degree. Students enrolled in the CMI since the first year of the Bachelor's degree SESI (Exact Sciences and Engineering Sciences) follow the RT Master's courses in one of the two tracks.
*It is a group of universities providing excellent training in the sciences and humanities in bachelor's and master's degrees in engineering, materials science, computer science, EEA, mechanics, biology-health and biotechnologies.
FiGuRe network manager : arnaud.gauthier@univ-lille.fr
Pedagogical Secretariat
Lisa Poupart +33 (0)3 20 33 60 40 lisa.poupart@univ-lille.fr

Coordinators and Directors
Head of mention: Davy Gaillot davy.gaillot@univ-lille.fr

Responsible for the Master 1 :  Laurence Picheta : laurence.picheta@univ-lille.fr

Responsibles for the Master 2 :