L'IEMN, unité mixte de recherche, accueille chaque année de nombreux étudiants et stagiaires qui bénéficient d'un environnement de grande qualité pendant la durée de leur séjour.
Ce séjour est un moyen de se former à la recherche, voire constitue une première étape vers une carrière de chercheur ou d'enseignant-chercheur.
They are supervised by teams of researchers, teacher-researchers, engineers, and high-level technicians and are accompanied by administrative and communication staff during their contract.
They benefit from the resources available on the micro-nano-fabrication and multi-physics characterization platforms.
The multidisciplinary nature of the research conducted at IEMN can lead students to work with electronics, mechanics, physicists, chemists, and biologists, which allows them to explore new territories.
Much of the research work is conducted in partnership with many industrialists.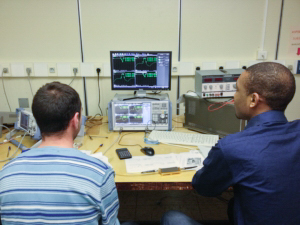 A wide variety of profiles: