Bringing together physicists, electronic engineers and acousticians in a single structure, making researchers with different cultures, approaches and objectives work together, building a continuum of knowledge and know-how from fundamental problems to applications is one of the specificities of our Institute today.
In a highly competitive international context, we are pursuing a two-pronged strategy aimed at consolidating our expertise in areas of excellence, but also at supporting resolutely new activities, the basis of potential breakthroughs, in which we believe we can play a leading role in the future.
Not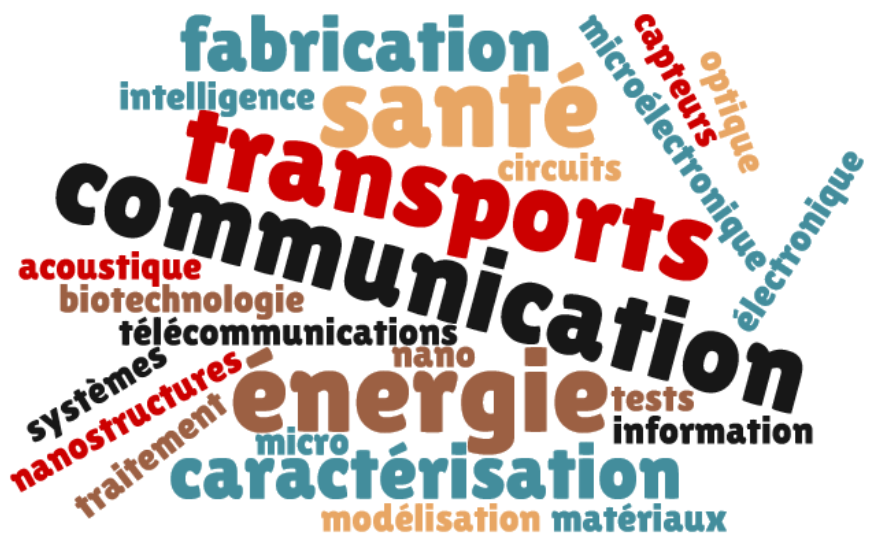 Our scientific policy is based on a balance between knowledge acquisition and applications. Approximately one third of our activity concerns non-applied research, or research with distant applications, which constitutes the basis for the resourcing and renewal of the Institute's scientific and technological skills. The remaining two thirds concern support for industrial R&D for medium-term applications (mainly with large groups) or shorter-term applications (with SMEs) for which we propose innovative devices and processes with performances that surpass the state of the art.
The scientific activity of the 22 research groups of the Institute
is structured into five departments:
materials and nanostructures
micro and nano systems
micro, nano and optoelectronics
telecommunication circuits and systems
acoustics
The IEMN's research activity is based on heavy technological means whose performances are at the best European level:
une A Central Micro and Nano Manufacturing Platform (CMNF) whose primary mission is to support the Institute's research teams but which is also open to academic laboratories within the framework of the basic technology research program (RTB) and to industrialists (large groups and SMI/SMEs) for partnership research programs.
une High Frequency Characterization platform which gathers the common means of the IEMN in electrical characterization of components and devices in a wide range of frequencies and temperatures.
une Near Field Microscopy platform
une Electro Magnetic Compatibility (EMC) platform

une platform dedicated to Advanced Communication Systems
The goals of the research at IEMN are to excel in the production of new knowledge, in the training of doctoral and post-doctoral students, and in the transfer of knowledge to the business community.
(Version mise à jour le 5 avril 2023)