Wide Bandgap Devices
WIND is a research group focused on the development of wide bandgap devices for high frequency applications and high-power energy conversion. The materials of interest include GaN, SiC but also ultra-wide bandgaps (beyond GaN & SiC) such as AlGaN-based alloys, AlN or Ga2O3. Our activities cover the device design and simulation as well as advanced processing and characterization.
GaN and related alloys (AlN, InN and its alloys) are a game-changer in the electronic device field. In addition to this, its large bandgap delivers high breakdown voltage and high operating temperature. The properties of these basic materials make them the ideal candidates for electronic devices.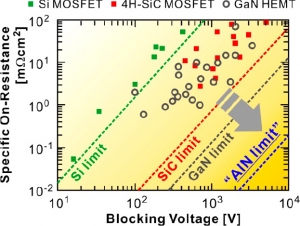 UWBG (ultra-wide bandgaps ) materials include AlGaN/AlN, Ga2O3, diamond, and perhaps others not yet discovered. Because many of the figures-of-merit for device performance scale with increasing bandgap in a highly non-linear manner, these UWBG materials have the potential for far superior performance than WBG materials have.