COMmunicating Systems cluster (SigmaCOM)
"SigmaCOM: from concept to use..."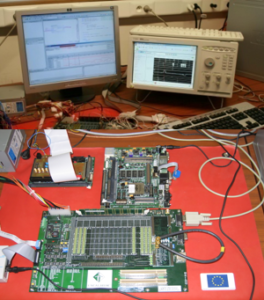 The SigmaCOM is the result of the mutualization of the IEMN Telecom platform created in 2006 and the optical communication platform (PhLAM/IEMN) in connection with the central FiberTech Lille of the PhLAM (Laboratory of Laser, Atom and Molecule Physics). The latter is a valuable research tool on the experimental side for groups at IEMN, the PhLAM, CRIStAL, the L2EP and more generally the projects of the IRCICA(Research Institute on Software and Hardware Components for Information and Advanced Communication)
Also, it maintains a collaboration with the startup Wavely, creator of Sensors
connected acoustic sensors, incubated at IEMN, among others.
SigmaCOM is housed at the IRCICA (Institute for Research on Software and Hardware Components for Advanced Information and Communication), located on the Haute Born European Science Park.
This cluster enables the implementation of innovative complex systems from the design to the realization, testing and measurement of any microwave, optical and telecommunications system and facilitates the pooling of resources and knowledge.
Unique in Europe, it offers state-of-the-art scientific equipment with a total value of approximately €6 million. It is structured into two clusters that embody the major current challenges in advanced communications systems, including 5G:
Optical and wireless (THz) communication cluster for the search for ever-increasing data rates
Communicating systems cluster for connected objects, IoT and massive machine-to-machine communications (MMTC - Massive Machine Type Communication)
It is managed by a scientific and technical team of 4 people (two researchers, a research engineer and a technician) working in close collaboration with all personnel wishing to benefit from their expertise.