Structural characterizations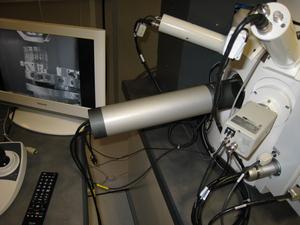 The diffraction of a beam of X-ray photons by a crystal allows a fine analysis of its structure. The IEMN is equipped to analyze the physical structure of single crystal semiconductor materials. An X'Pert Pro goniometer with double X-ray diffraction allows us to measure important parameters in the field of epitaxial growth such as the lattice parameter, the composition of alloys or the relaxation rate of a constrained crystal.
This system allows non-destructive testing of samples mounted on an x-y table accepting substrates up to 100 mm in diameter. Main applications:
 measurements of alloy compositions and layer thicknesses
 control of the adaptation in mesh parameter with the substrate
 quality of interfaces in super networks
 constrained thin films
 relaxation rate and tilt of mismatched thick layers
The IEMN is also equipped with an EBSD (electron backscatter diffraction) detector on one of its scanning electron microscopes for the determination of the local orientation on crystalline material. We can thus perform quantitative analyses by mapping microstructures, evaluate the orientations of crystallized films, map disorientations,...