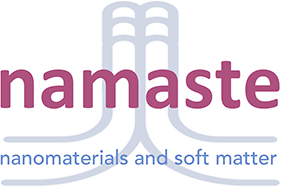 NAMASTE (NAnoMAterials and SoFT mattER) team brings together researchers working in the field of theory and numerical modelling at atomic and mesoscopic scales of nanomaterials and soft matter. The studied systems are semiconductor nanostructures: 0D, nanocrystals; 1D, nanowires, nanotubes, graphene nano-ribbons; 2D: membranes, assemblies of nanocrystals; semiconductor-oxide interfaces; molecular systems: single molecules, molecules on surface inorganic devices; biological molecules: DNA.
The studied properties are related to the electronic structure, first calculated by ab initio (density functional theory) or semi-empirical (tight binding) methods. These calculations are used to study the optical properties (absorption, photoluminescence), the effects of Coulomb interactions (excitons, self-energy corrections, Coulomb blockade), the electron-phonon (optical transitions assisted by phonons, inelastic transport), dielectric properties, transport (Landauer, diffusion), near-field microscopy and spectroscopy, and epitaxial growth.
We also study the thermodynamics and the physico-chemistry of the above systems in fixed conditions of temperature and pressure, and under constraints (mechanical, chemical, thermal, etc.). The chemical-physical phenomena that interest us can go from self-organized structures ordered at supra molecular scale, to the adhesion of interfaces and heterogeneous aggregation, the microscopic mechanics of biomolecules for nano-bio applications, the heat transport in nanostructures, the collection of light energy, the hydrogen storage, and more… These studies a
re conducted by applying methods of statistical mechanics: molecular dynamics, Monte Carlo, stochastic dynamics, continuum mechanics, … in the context of classical and quantum physics.
The research activities in the NAMASTE team are conducted in collaboration with the experimentalists of IEMN and other laboratories like IBL in Lille, the Delft Technological University, the LIMMS in Tokyo, the Debye Institute in Utrecht..
.