Gracy is an ambitious research project that focuses on graphenebased circuits dedicated to innovative applications for communication systems. It aims to demonstrate the capabilities of graphene microwave devices to exhibit performances beyond those of currently available high frequency transistors.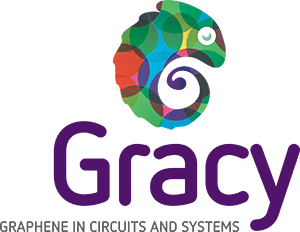 GRACY research project investigates graphene-based electronic circuits operating at microwave frequencies and their integration into communication and radar systems and applications.
Gracy brings together Callisto, an international engineering leader in the field of satellite communications and two academic labs : IEMN and IMS.
Research is performed to drive graphene technology towards manufacturing, with a systematic investigation of benchmarking figures of merit for specific applications :
Market assessment
Circuit specifications
Material synthesis I device and circuit fabrication
Characterization / Compact model
Circuit design / demonstrator
Gracy benefits from the unique skills and knowledge of the Carbon team in the fields of graphene growth, circuit characterization and demonstrators development.
The Carbon research mainly focuses on enhancing the graphene performances for low-noise microwave applications around 20 GHz, to enable room-temperature applications without cryogenic cooling. Noise improvement in reception devices will address major technological challenges in satellite communications, radio-astronomy, radar scanners and medical applications. It will also help tackle potential health hazards caused by mobile and wireless communications, by reducing the required emission power.