UN DIAGNOSTIC DE LA COVID-19 UTILISANT UN CAPTEUR PORTABLE DE RÉSONANCE PLASMONIQUE DE SURFACE EN VUE D'UNE VALIDATION CLINIQUE RAPIDE
Le projet CorDial-S coordonné par Sabine Szunerits et en étroite interaction avec David Devos du CHU de Lille, est lauréat de l'Action de Financement d'Urgence de la Commission Européenne pour lutter contre l'épidémie de coronavirus SRAS-CoV-2.
Il a été retenu, ainsi que 22 autres projets, dans le cadre du programme Horizon 2020 et suite à un appel lancé par la Commission européenne en mai 2020 pour développer « innovative and rapid health-related approaches to respond to COVID-19 and to deliver quick results for society for a higher level of preparedness of health systems ».
Pour pouvoir limiter la propagation de la COVID-19, il est important de disposer, de manière illimitée, d'un procédé diagnostique efficace, précis et bon marché. L'approche adoptée par CorDial-S permet d'aboutir à un diagnostic rapide (30 min), sensible (200 particules / mL), spécifique, peu coûteux (<20 euros) et portable (<1 kg).
Cette approche repose sur quatre concepts technologiques innovants :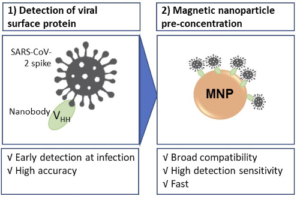 _
1) Des anticorps à domaine unique (nanobodies) permettant la détection directe de la protéine de surface virale (protéine spike SARS-CoV-2)
_
2) Des nanoparticules magnétiques (MNP) pour la pré-concentration du virus, augmentant la sensibilité
_
_
_
3) Une détection portable comme la spectroscopie de résonance plasmonique (SPR) pour une analyse rapide et en temps réel_
_
4) La transmission de données sans fil du laboratoire aux professionnels de santé permet une prise de décision rapide.
Le consortium CorDial-S repose sur l'implication de 7 partenaires :
1. ULille apporte la fonctionnalisation de surface et la méthodologie des tests cliniques de la puce SPR.
2. UCLouvain ajoute son savoir-faire de hub numérique.
3. AFM amène ses connaissances reconnues au niveau mondial sur les nanobodies (VHH) au consortium.
4. PhotonicSys fournit un dispositif de diagnostic SPR portatif.
5. Magnostics développe spécifiquement des nanoparticules magnétiques présentant une interaction magnétique élevée.
6. CHU-Lille procède à la validation clinique dans les écouvillons nasopharyngés et la salive.
7. Colmeris MedTech est chargé des aspects réglementaires et de l'autorisation de mise sur le marché du dispositif diagnostique