DIAGNOSIS OF COVID-19 USING A PORTABLE SURFACE PLASMON RESONANCE SENSOR FOR RAPID CLINICAL VALIDATION.
The CorDial-S project, coordinated by Sabine Szunerits and in close interaction with David Devos of the Lille University Hospital, is a winner of the European Commission's Emergency Financing Action to combat the SARS-CoV-2 coronavirus epidemic.
He was selected, along with 22 other projects, as part of the Horizon 2020 program and following a call launched by the European Commission in May 2020 to develop « innovative and rapid health-related approaches to respond to COVID-19 and to deliver quick results for society for a higher level of preparedness of health systems ».
To be able to limit the spread of VIDOC-19, it is important to have an effective, accurate and inexpensive diagnostic procedure available at all times. The approach adopted by CorDial-S allows a rapid (30 min), sensitive (200 particles / mL), specific, inexpensive (<20 euros) and portable (<1 kg) diagnosis.
This approach is based on four innovative technological concepts: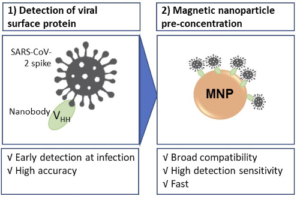 _
1) Single-domain antibodies (nanobodies) for direct detection of the viral surface protein (SARS-CoV-2 spike protein)
_
2) Magnetic nanoparticles (MNP) for pre-concentration of the virus, increasing sensitivity.
_
_
_
3) Portable detection such as plasmon resonance spectroscopy (SPR) for fast, real-time analysis_
_
4) Wireless data transmission from the laboratory to healthcare professionals allows for rapid decision making.
The CorDial-S consortium is based on the involvement of 7 partners:
1. ULille brings the surface functionalization and clinical test methodology of the SPR chip.
2. UCLouvain adds its know-how as a digital hub.
3. AFM brings its internationally recognized knowledge on nanobodies (VHH) to the consortium.
4. PhotonicSys provides a portable SPR diagnostic device.
5. Magnostics specifically develops magnetic nanoparticles with high magnetic interaction.
6. CHU-Lille perfores clinical validation in nasopharyngeal swabs and saliva.
7. Colmeris MedTech is responsible for the regulatory aspects and the marketing authorization of the diagnostic device.