A trans-dermal patch for the treatment of chronic diseases such as diabetes.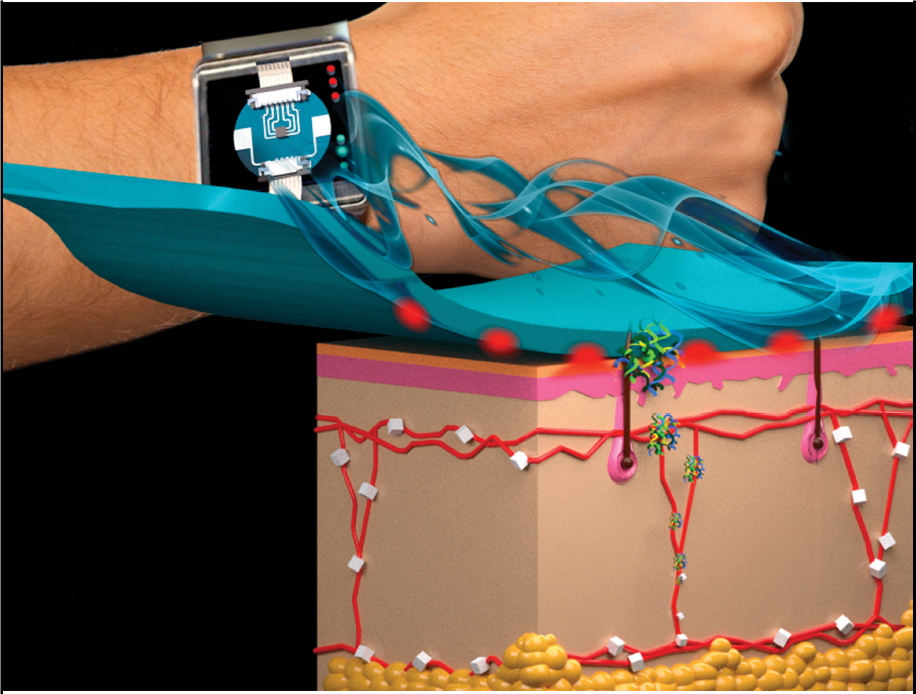 Glycemic control, necessary to reduce chronic complications in type 1 diabetes, often requires multiple daily injections of insulin. The discomfort associated with the use of needles often leads diabetic patients to become discouraged or even neglect their own therapeutic management.
Today, several technological developments are underway to offer alternative solutions to compensate for (multiple) daily injections of insulin. Transdermal administration of insulin, a painless and simple approach, is an interesting alternative and presents several advantages such as the possibility of prolonged and on-demand treatment. However, the transdermal delivery of insulin is limited by the low permeability of the outermost epidermal layer (stratum corneum), which only allows the passage of hydrophobic molecules with a molecular weight below 500 Da.
In this work*, we have demonstrated the improvement of the permeability of the stratum corneum by thermal activation for insulin permeation. We have developed a new transdermal insulin delivery system that exploits the excellent electrothermal properties of a perforated gold thin film covered with an insulin-loaded graphene layer. By applying a low voltage (power less than 200 mW cm-2), it is possible to reach a stable temperature of 52°C in a few seconds, which allows the initiation of insulin delivery. This self-powered platform can use commercially available portable battery systems. Thus this transdermal patch, designed using simple technology, represents an advance in the treatment of chronic diseases such as diabetes for which effective and non-invasive insulin dosing remains a major challenge.
*Electrothermal patches driving the transdermal delivery of insulin
Quentin Pagneux, Ran Ye, Li Chengnan, Alexandre Barras, Nathalie Hennuyer, Bart Staels, D. Caina, J. I. Avila Osses, Amar Abderrahmani, Valérie Plaisance, Valérie Pawlowski, Rabah Boukherroub, Sorin Melinte and Sabine Szunerits
Nanoscale Horizons, 2020, 5, 663-670. https://doi.org/10.1039/C9NH00576E