Sabine Szunerits named to the National Order of the Legion d'Honneur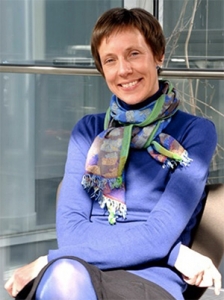 Sabine Szunerits, professor at the University of Lille and researcher at the IEMN, has been awarded the rank of Chevalier in the Ordre National de la Légion d'Honneur by a decree published in the Journal Officiel on July 14, 2023.
After an international career marked by studies in Austria, a doctorate in London and post-doctorates in Boston and Paris, Sabine Szunerits joined the chemistry department of the University of Lille as a professor in September 2009. Her research activities, conducted within the IEMN's NanoBioInterface group, lie at the frontiers of several disciplines, electrochemistry, spectroscopy and materials chemistry, with applications in the fields of biosensors, nano-medicine and personalized medicine.
Author of over 440 scientific articles and editor of several international chemistry journals, Sabine Szunerits has coordinated numerous ANR and European projects. She was appointed « junior member » of the Institut de France (IUF) in 2011, then « senior member » in 2022. She has been awarded several international distinctions, including the CNRS Silver Medal in 2018.