EMULATION DES TECHNOLOGIES D'ACCES RADIO POUR LES COMMUNICATIONS FERROVIAIRES

EMULRADIO4RAIL vise à fournir une plate-forme innovante pour les tests et la validation de différentes technologies d'accès radio (Wi-Fi, GSM-R, LTE, LTE-A, 5G et satellites). Il combine des simulations du réseau cœur et l'émulation de diverses technologies d'accès radio grâce au couplage de simulateurs d'événements discrets tels que RIVERBED Modeler (anciennement OPNET Modeler), d'émulateur réseau basé sur OAI[i] et divers émulateurs de canaux radio.
EMULRADIO4RAIL combinera des tests « dans la boucle » (System In The Loop) incluant du matériel (Hardware In The Loop) afin de pouvoir coupler le véritable équipement d'accès radio (ou des prototypes), les émulateurs radio (des systèmes physiques représentant les véritables conditions de communication) et les simulateurs capables d'imiter le réseau ferroviaire et les déplacements des trains.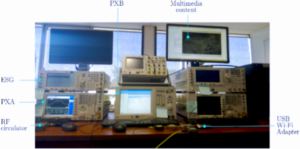 L'IEMN développe l'un des deux émulateurs de canaux considérés dans ce projet. Il utilise un générateur de bande de base commercial et un émulateur de canal PXB N5106A de Keysight Technologies. Le PXB est un émulateur en bande de base, et pour pouvoir travailler avec des signaux radiofréquence (RF), le PXB a besoin d'un démodulateur RF (par exemple PXA) à son entrée et d'un modulateur RF (par exemple PSG, ESG, MXG) à sa sortie. Sa largeur de bande d'entrée et de sortie peut aller jusqu'à 160 MHz et peut simuler un grand type de canaux prédéfinis (GSM, 802.16, WLAN, etc.) ou personnalisés, y compris les communications LTE pour les trains à grande vitesse (vitesse des véhicules jusqu'à 864 km/h). Il supporte les systèmes MIMO[ii] (jusqu'à 4×4) et prend en compte la corrélation des antennes. Différents scénarios de communication et d'environnement sont étudiés, couvrant les modes dégradés, les pannes, les scénarios de surcharge du réseau, les interférences et autres perturbations qui se produisent dans l'environnement ferroviaire ou qui peuvent être attendues à l'avenir. Un accent particulier sera proposé sur les interférences, en tenant compte des interférences intentionnelles.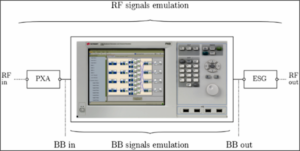 Le projet EMULRADIO4RAIL entre dans la cadre de l'appel H2020-S2RJU-OC-2018 du programme européen pour la recherche et le développement. Il fournit des moyens innovants d'améliorer les stratégies de tests de R&D et devrait permettre de réduire considérablement la complexité et les coûts des tests et de la validation des prototypes ; l'environnement ferroviaire est difficile pour les communications radio et la connectivité permanente à très haute vitesse un défi de la 5G. EMULRADIO4RAIL permettra la mise au point de solutions efficaces à moindre coût.
---
Berbineau, M., Moreno, J., Kharbech, S., Yan, Y., Vizzari, A., Torrego, R., Soler, J., Clavier, L., Kassi, R., Mazzenga, F., Giuliano, R., Iñaki, V., Gransart, C., Deniau, V., Cocheril, Y., & Svensson, K. "Emulation of various radio access technologies for zero on site testing in the railway domain – The Emulradio4rail platforms." In Proceedings of 8th Transport Research Arena TRA 2020
Moreno, J., Kharbech, S., Clavier, L., Kassi, R., Torrego, Arriola, Iñaki, V., Berbineau, M., Soler, J., Yan, Y., "Emulation of end-to-end communications systems in railway scenarios: physical layer results, 14th European Conference in Antennas and Propagation, EUCAP 2020
[i] Open Air Interface. Propose des logiciels et du matériel open source pour émuler le réseau cœur, le réseau d'accès et l'équipement utilisateur des réseaux cellulaires 3GPP, incluant la 4G et la 5G.
[ii] Multiple-input multiple-output.