IEMN –  Institut d'Electronique de Microélectronique et de Nanotechnologie
Univsersité de Lille – Avenue Poincaré – Villeneuve d'Ascq
PROGRAM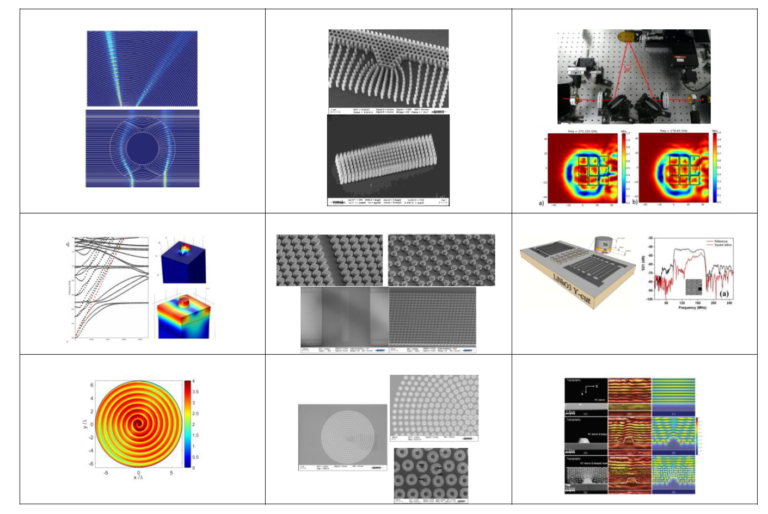 An international workshop on gradient-index metasurfaces will be organized by the departments of Micro and Nano Optoelectronics (MNO-dept), Physics and Acoustics of IEMN in October 2018. It will aim at presenting the current status in the field of spatially dispersive micro-structured metadevices for electromagnetic and acoustic waves and the latest advances in this research area seeking disruptive technologies for the next generation of information and communication systems.
The topic of main interest will include, but will not limited, to wave manipulation devices (magnitude, phase and polarization), reconfigurable and tunable electromagnetic metamaterials at microwave, THz and optical frequencies, acoustic metadevices from infra- to ultra-sound spectrum, antenna applications, sensor network in particular for IoT, reflect- and transmit-arrays for the 5th generation of telecommunications systems, metamaterial for sensing, novel metamaterial concepts, numerical modelling, experimental techniques and characterization of dispersive metasurfaces.
The workshop will comprise keynote presentations from experts in the field as well as oral and poster contributions.
List of invited papers
S. TRETYAKOV, Aalto University, Espoo (Finland)
"Electromagnetic functional metasurfaces"
S. MACI, Universita Degli Studi Di Siena (Italy)
"Gradient metasurfaces for addressing surface waves"
Y. HAO, Queen Mary, University of London (United Kingdom)
"Electromagnetic Metasurface: Randomness, Active Control and Optimization"
P. GENEVET, Centre de Recerche du l'Hétéroépitaxie, Valbonne (France)
"Semiconductor-based metamaterials in the visible"
D. TORRENT, The University Jaume 1er in Castellon (Spain)
"The inverse grating problem: Efficient design of metasurfaces"
B. ASSOUAR, Institut Jean Lamour, Vandoeouvre-les Nancy (France)
"Metasurfaces for Acoustic Energy Harnessing and Harvesting"
V. ROMERO-GARCIA, Laboratoire d'Acoustique de l'Université du Maine , Le Mans (France)
"Deep subwavelength metasurfaces for acoustic diffusion"
H. LISSEK,  Ecole Polytechnique Fédérale de Lausanne, Lausanne  (Switzerland)
"Steerable Acoustic Metasurfaces with Active Electroacoustic Resonators"
IEMN Organization  committee
D. LIPPENS (Chair – DOME-MNO Dept)
Y. PENNEC (EPHONI – Physics Dept )
B. DUBUS (ACOUSTIQUE – Dept )
J.-F. LAMPIN (PHOTONIQUE THz – MNO Dept)
O. BOU-MATAR (AIMAN-FILMS – ACOUSTIQUE Dept)
J.-F. ROBILLARD (MICROELEC – MNO Dept)
Advisory Board
IEMN D. LIPPENS (Electromagnetics) and B. DJAFARI-ROUHANI (Acoustics)
MRIS P. POULIGUEN (Ondes Acoustiques et Radiofréquences) – P. ADAM (Photonics) – R.-M. SAUVAGE (Nanotechnology)
GDR NANOTERAMIR J. MANGENEZ and J.-L. COUTAZ
TRILATÉRAL GRADIENT PROJECT C. CRAEYE  and D. VANDE GINSTE
Informations
Abstract submission closed : Tusday 31st July 2018
It is still possible to submit a poster contribution…  Submit a poster abstract
Registration: Monday 1st October 2018
All participants, contributors and attendees, are encouraged to register on the workshop website as early as possible.
Fees: No registration fees are requested.
Submission guidelines
Papers should be 1 page long with a short abstract and a main body where the technical content and novelty of the work should be presented. They have to be submitted as camera-ready copy pdf files. See below to register and submit your abstract…
---
Registration & Abstract submission

All participants are encouraged to register. To register please use this link… Registration only
It is still possible to submit a poster contribution…  Submit a poster abstract
---
Venue
The Workshop will take place in the Amphitheater of main building of IEMN, Institut d'Electronique, Microélectronique et de Nanotechnologie
Cité scientifique – Avenue Poincaré – 59652 VILLENEUVE D'ASCQ CEDEX
The building is located 300m south from the "4 cantons – Grand Stade" subway station. (termial of the Yellow subway line).
This station can be reached in 20 minutes from the "Lille Flandres" and "Lille Europe railroad stations".
Contact : Didier Lippens
Mail : didier.lippens@iemn.univ-lille1.fr

https://www.iemn.fr/wp-content/uploads/2018/06/workshop_gardient-1.jpg
165
205
Anne C.
https://www.iemn.fr/wp-content/uploads/2016/04/logo_IEMN.png
Anne C.
2018-06-28 14:15:08
2019-10-10 14:53:40
Workshop : Gradient Resonant Array Devices In Electro-magnetic-acoustic Nano Technologies