Portrait of Jean-François Robillard, teacher-researcher, Groupe Microelec Si
The alliance of pathfinder projects and teamwork
It is with fairplay and simplicity that Jean-François has lent himself to the exercise of portraiture, which he wishes to be as objective as possible. In the midst of writing the HDR, this is a good opportunity to look back on his career as a teacher-researcher by highlighting some of the highlights of his history, while addressing the trajectory of thermoelectricity research at the IEMN.
« The biggest barriers are often in our heads, they don't really exist. You can't compartmentalize things in your mind, there are so many preconceived ideas, especially about academic research and industry ».
This is the credo that has always guided Jean-François until now. This reflection, based on personal conviction and, understandably, on proven experiences, can of course be applied to young graduates or young researchers, hesitating about their careers. We can add: « not to compartmentalize universes » is a constant source of enrichment and sharing of knowledge, which are essential values in research.
1
An attraction for the « beautiful » Physics
Jean-François has always wanted to do research, with Physics as a passion. By chance, while he was in a preparatory class for engineering schools, he discovered on a brochure the programs of the Orsay Fundamental Physics Magisterium that made him dream: quantum mechanics, statistical physics, electromagnetism, … Without hesitation, he went for it and came out three years later, in 2004, with a double Master-Magister degree! He experienced it intensely as « a very stimulating period ».

« Paris-XI is a very special place, between the wooded hills are nestled so many prestigious laboratories … so much so that nobody makes a big deal of it and you don't immediately realize the very high level of research conducted there. « (Jean-François)
An internship at the end of his studies will orient him permanently towards the vast field of micro- and nanotechnologies. He then worked on the study and mechanical characterization of materials (metals, dielectrics, semiconductors) used in the composition of integrated circuits, particularly in collaboration with the microelectronics industry (ST Microelectronics). He remembers it as an experimental device with « beautiful physics », which made him want to do a thesis in microelectronics, under the direction of Arnaud Devos, CNRS researcher at ISEN/IEMN. The subject, « Picosecond Ultrasonics investigation of the individual and collective vibrations in ordered nanostructures », allowed him to extend the use of picosecond acoustics – a method for measuring elastic properties at very small size scales – to more complex and mechanically coupled nano-objects.
2
The turning point of thematic mobility
After his thesis defended in 2008, he is considering doing a post-doctoral fellowship, which will be necessary for him to pursue a research career, but he prefers to postpone it to a more opportune time. Rather than changing laboratory, he changes subject, operating a « thematic mobility » in the direction of phononic crystals, in an approach this time more theoretical.

He then trained on his new subject at the École Centrale de Lille for a year with Olivier Bou Matar in the Aiman-Films team. This team is particularly specialized in magnetostrictive materials, a property coupling magnetism and acoustics. In 2010, this leads to an article which is now quite well taken up.

« With the team, we proposed a concept of frequency tuning via the magnetic field, therefore without contact, of phononic crystals. »
This period truly marks the beginning of his research career, providing him with long research prospects. The expertise work on phononic crystals quickly bore fruit as Jean-François spent a year (2009-2010) in the United States as a Research Associate in the Department of Materials Science and Engineering, specializing in his field, in Arizona at the University of Tucson. This was an opportunity for him to materialize this promising theme in the form of several articles and to train as a doctoral student supervisor. He recalls a « very intense and productive year, a great adventure ».
3
Back to ISEN and ERC project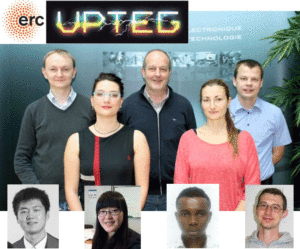 In 2010, Jean-François became a permanent lecturer-researcher at ISEN/IEMN and joined Emmanuel Dubois in the Silicon Microelectronics group (Microelec Si) at IEMN to develop an activity around the recovery of thermoelectric energy.
Since his stay in the United States, Jean-François has had the intuition that « there is something to do with thermoelectricity », in particular by using concepts derived from phononic crystals to make this energy conversion more efficient. The approach is new, since only two pioneering papers report such proposals that are just waiting to be developed.
Jean-François then formulated a Starting Grant project with the ERC (European Research Council) that starts in 2013. The idea is to explore this new field whose development potential is obvious but whose feasibility is not won in advance! Indeed, it is a question, no more and no less, of succeeding in transforming silicon into a thermoelectric material, which it is not naturally due to its very high thermal conduction. This very experimental project, requiring the fabrication and characterization of objects, also tackles very fundamental questions. In parallel to the ERC project, Jean-François participates in the Joint ST Microelectronics/IEMN Laboratory where he regularly supervises Cifre theses.
4
Project progress, spin-offs and prospects
Obtaining the UPTEG ERC project has been a tremendous gas pedal for his technologically advanced research that has led to the successful generation of thermoelectricity using silicon. In addition, it has enabled him to establish fruitful collaborations in particular with the Lyon Thermal and Energy Center (CETHIL).
The IEMN has acquired experience in this field via three methods: electrothermal, Raman thermometry and near-field thermal microscopy. The marriage between micro-nanotechnologies and thermics has led to a collaborative ANR project TIPTOP to develop new sensitive detectors for thermal microscopy.
The results of the ERC project, completed in 2019, are positive: six theses defended, three post-doctoral fellowships funded, about ten published articles and oral communications and five invited conferences, … This good harvest allowed the start of new activities. In particular, Jean-François is now working on thermal optimization in non-volatile phase change memories (PCRam), still within the framework of the Joint Laboratory. In addition, two ANR projects will start in 2021, one focusing on heat transport in the quantum regime and the other on heat transfer in metal-semiconductor interfaces. This will provide food for thought at the frontiers of several disciplines …
Writing Karine Perrot (service ECM)