The Nanobiointerfaces (NBI) groupis located in the « Campus CNRS Haute Borne » in Villeneuve d'Ascq.
We have three laboratories, two laser rooms, one BSL-1 lab (for molecular biology), one BSL-2 lab (for eukaryotic cells), one room at 4°C and two stock rooms (chemicals and consumables). We also share another one BSL-2 lab (for bacterial culture):
the main lab (122) dedicated to organic and material synthesis
the characterization lab (123) dedicated to chemicals and material analysis
the third lab (125) dedicated to analytical techniques and electrochemistry
the laser room (108) dedicated to laser irradiation and transdermal drug delivery
the BSL-2 lab (153) dedicated to the culture of eukaryotic cell (human or animal)
the laser room (109) dedicated to photo-electrochemistry and fluorescence microscopy
the BSL-1 lab (113) dedicated to molecular biology
the other BSL-2 lab (018) dedicated to the culture of bacteria (E. coli,…)
People interested in using our facilities and/or collaborating with us should contact Dr Rabah Boukherroub.
Analysis equipments
Ultraviolet-visible spectroscopy UV-Vis (UVmc2 – Safas)
Ultraviolet-visible-near infrared spectroscopy UV-Vis-NIR (Lambda 950 – Perkin-Elmer)
Fourier transform infrared spectroscopy FTIR (Nicolet 8700 – Thermo Fisher Scientific)
PEM module (PEM – Thermofisher)
Fluorimeter (Xenius – Safas)
2 Dynamic light scattering DLS (Zetasizer Nano ZS and ZSP – Malvern Panalytical)
Thermogravimetric analysis TGA (TG 209 F3 Tarsus® – Netzsch)
Contact angle meter (Digidrop – GBX)
High pressure liquid chromatography HPLC (LC-2010HT – Shimadzu)
Liquid chromatography / Mass spectrometry LC/MS (LC 1260 Infinity II/MSQ 6125 – Agilent)
Gas chromatography GC (Clarus 690 – Perkin-Elmer)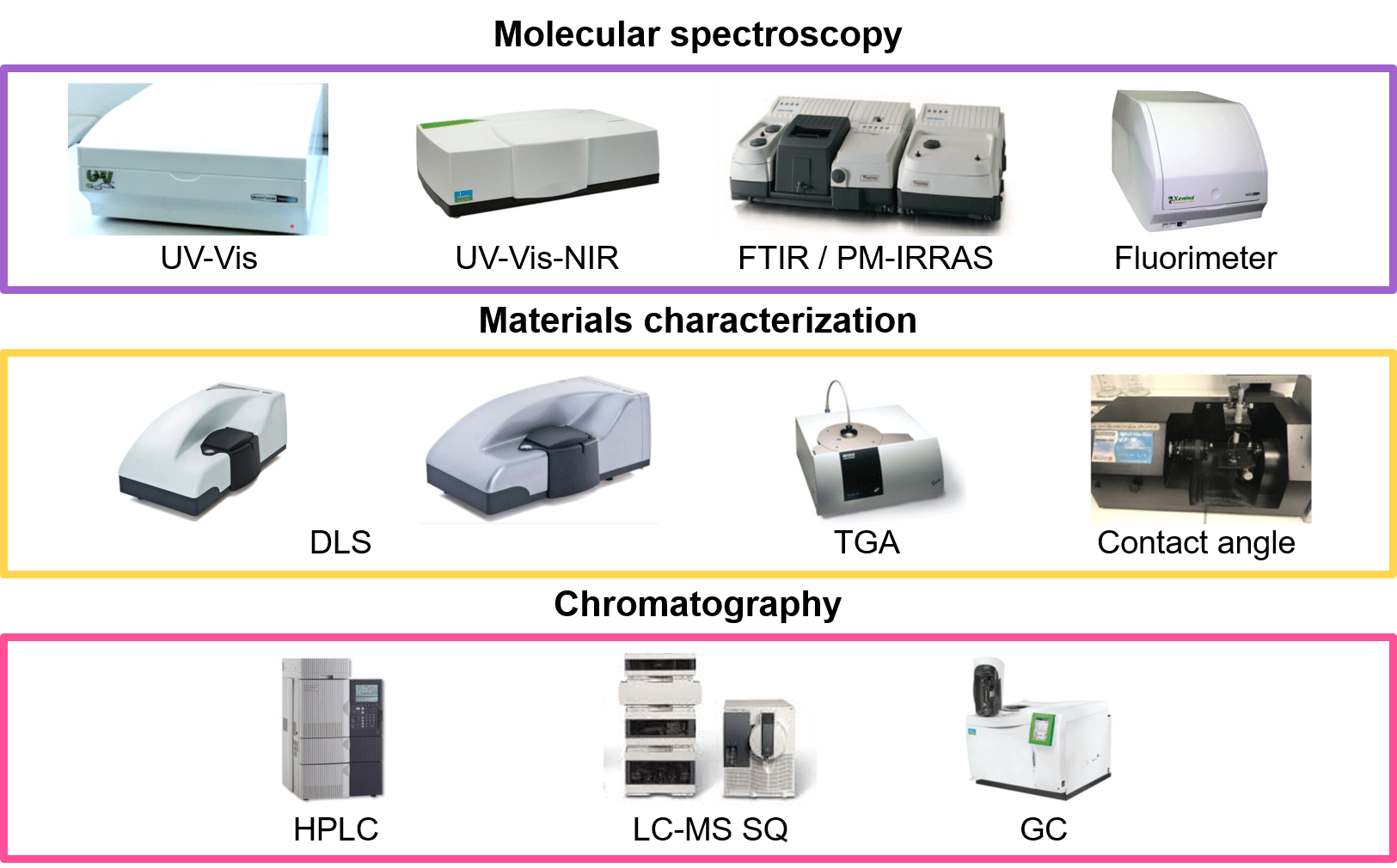 Synthesis equipments
Microbalance (XPR6UD5 – Mettler Tolero)
High speed centrifuge (Biofuge Stratos – Thermo Scientific Heraeus)
Freeze-drier (Alpha 2-4 LD plus – Martin Christ)
Rotary evaporator (Rotavapor® – Buchi)
2 Planetary ball mill (PM100 – Retsch)
Microwave reactor (Monowave 450 – Anton Parr)
Sonifier (Digital Sonifier 450 – Branson)
UV-ozone cleaner (UVO cleaner® 42-220 – Jelight)
Tubular oven (Nabertherm)
Spin coater (Delia 6 RG – SUSS MicroTec)
Heaters, stirrers, ovens, centrifuges, balance, ultrasonic cleaners, autoclaves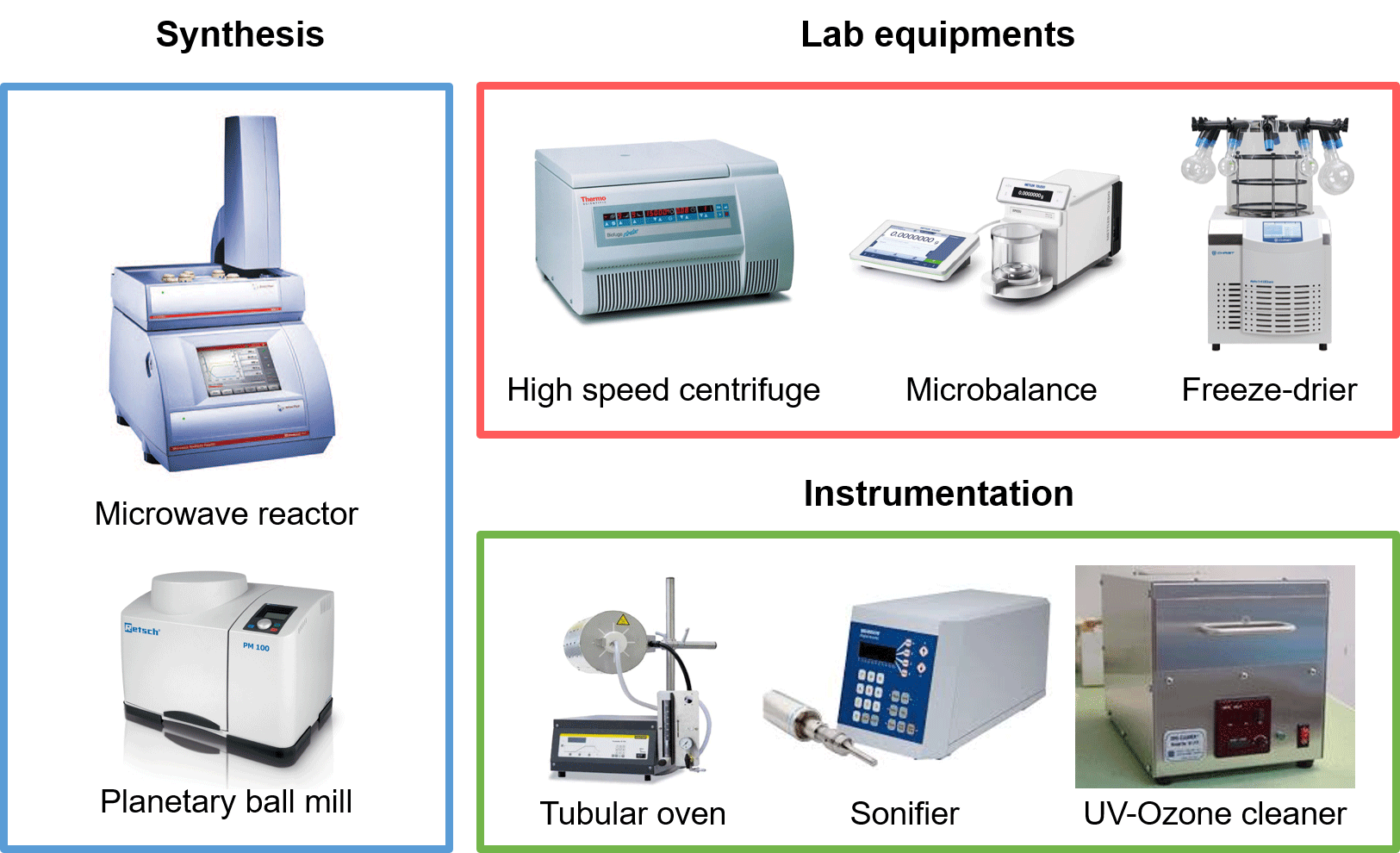 Bio-molecular detection - electrochemical devices
Nanodrop (One C – Thermo Fisher Scientific)
Real time-polymerase chain reaction system PCR (AriaMx – Agilent)
Bioanalyzer (Bioanalyseur 2100 – Agilent)
Multiplate reader / imager (Cytation 5 – Biotek)
Bioimaging system (ChemiDoc MP – Biorad)
Inverted fluorescence microscope (Ti-U Eclipse – Nikon)
SPR (Springle – Autolab)
SPR (betaSPR – Sensia)
SPR (SPR00 – Photonicsys)
2 Potentiostats (Pgstat12 – Autolab)
2 Potentiostats (Modulab – Solartron Analytical)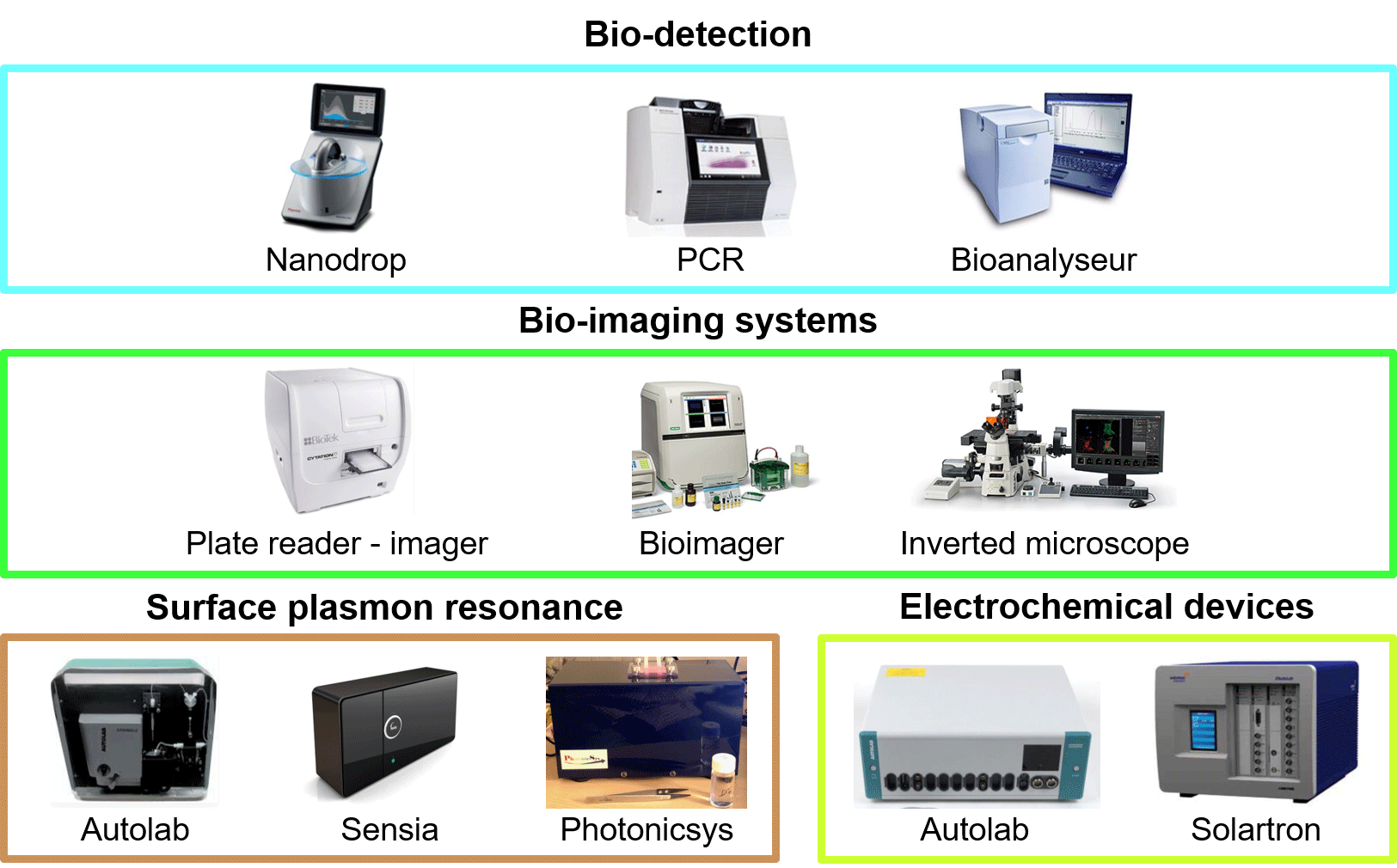 Cell culture labs
3 Biological safety cabinets
2 CO2 incubators
Inverted microscope (TS100 – Nikon)
2 Refrigerated centrifuges
Liquid N2 tank
Safety equipments
Nanosafe fumehood (Nanoprotect – A1-safetech)
PCR workstation (AirClean 600 – StarLab)
9 Fumehoods
5 Chemical safety cabinets
4 Safety showers