BIOSENS (Interreg V FWVL, 2017-2020)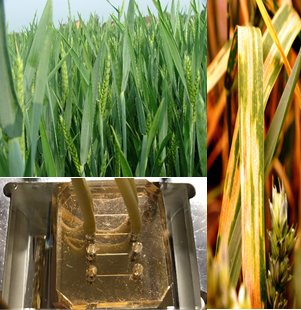 Surface plasmonic resonance is applied to the detection of pathogenic species in the biomedical (Candida Albicans) and phytosanitary (septoria leaf blotch) domains. In this latter application domain, it is also applied to the dosage of biological pesticides.
Our activity is focused on the development of a dedicated detection tool prototype. The technical part is jointly carried out with Liège University (B) and Materia Nova (Mons, B). CHRU (Lille, F) and CARAH (Ath, B) provide with the different biological molecules that are requested for experimental validation in the biomedical and phytosanitary domain, respectively. Multitel (Mons, B) is in charge of the final prototype integration.
Detection is based on a spectral optical probing of the sensors. These multichannel sensors allow to detect simultaneously different molecular intercations owing to specifically designed microfluidics.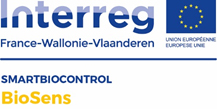 OPERA (ANR, 2017-2020)
Research theme: Photovoltaics
OPERA deals with the study of new thin film inorganic materials for photovoltaics. In fine these materials are dedicated to be used as a top cell absorber of a tandem cell which bottom cell is made of Si.
Columnar microstructure of sputtered ZnSnN2 material using reactive deposition
Columnar structure of reactively sputtered ZnSnN2
The sputtering technique is used as a low cost and up-scalable fabrication tool for earth-abundant large-bandgap compound materials.