Ses équipements de conception, fabrication et caractérisation de dispositifs se situent au meilleur niveau européen.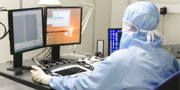 The IEMN includes dans une structure unique l'essentiel de la recherche régionale dans un vaste domaine scientifique allant de la physique des matériaux et des nanostructures aux systèmes de télécommunications et à l'instrumentation acoustique et micro-ondes. Un effort particulier est mis sur les micro et nanotechnologies (nanostructures et nano-électronique, micro-électroniques, micro-ondes et microsystèmes)
---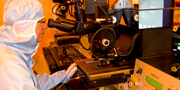 The core of our activities is focused on micro and nanotechnologies and their applications in the fields of information, communication, transport and health. Our researchers have at their disposal exceptional experimental resources, in particular technology and characterization facilities whose capabilities and performance are at the highest European level. IEMN is part of the RENATECH network of large technology centers. RENATECH.
---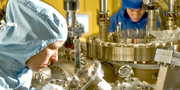 Working together des chercheurs ayant des cultures, des démarches et des motivations différentes, construire une continuité de connaissances allant des problèmes fondamentaux aux applications fait aujourd'hui notre spécificité. Aujourd'hui, l'institut regroupe environ 230 permanents (professeurs, chercheurs, ingénieurs et personnels administratifs) et environ 150 doctorants.
---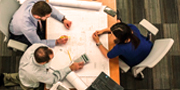 Our scientific policy consists not only in the deepening of knowledge but also to the establishment of a privileged partnership with industrial leaders in their markets and the development of a close partnership with regional SMEs and start-ups from the IEMN.
---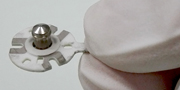 Thanks to the dynamism of its staff, its equipment and its multiple collaborations the IEMN has all the assets to play a major with academia and industry, role in the field of micro and nanotechnologies and their applications. The institute is one of the founding partners of the Research Institute on Software and Hardware Components for Information and Advanced Communication (IRCICA) avec deux autres laboratoires (CRISTAL and PhLAM).
Locations
The IEMN is located in different buildings in Villeneuve d'Ascq, Lille and Valenciennes. The central laboratory building houses the main technological resources and the common administrative services. The antennas located on the Faculté des Sciences de Technologie de Lille and on theUniversité Polytechnique des Hauts-de-France as well as in the YNCREA-ISEN in Lille are also dedicated to research activities. They also maintain the link between research and master's and engineering school courses. The Institute's central laboratory (LCI), designed to be the IEMN's showcase, is a modern 11,000 m2 building with two clean rooms, numerous specialized laboratories and offices.
The IEMN in a few figures
The people who make the SMI
| | |
| --- | --- |
| Effectifs en 2018 | |
| Teachers and Researchers | 122 |
| CNRS Researchers | 47 |
| Post Docs and ATER | 19 |
| Permanent administrative and technical staff | 62 |
| Non-permanent administrative and technical staff | 27 |
| Doctoral students | 144 |
Annual budget: 30 M€
Recurrent State credits: 3 M€
Contracts: over 8 M€
Salaries of civil servants: 19 M€
Annual scientific production
35 to 40 theses
Over 300 articles in international journals and papers in international conferences
40 invited papers
10 letters
---
(Version mise à jour le 5 avril 2023)