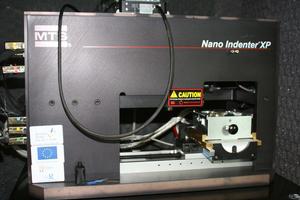 We also have at iemn some means of characterizing the mechanical properties of thin films or MEMs-NEMs components, such as residual film stresses, hardness, elastic modulus, static and dynamic characterizations (vibration modes) of microsystems....
Instrumented nano indentation (IIT) allows us for example to explore the mechanical properties of very small volumes of material (sub-micrometer scale), to mechanically characterize thin films. The indentations made can be spaced by about 1 micrometer, allowing us to spatially map the distribution of surface mechanical properties with a good resolution with very little preparation. The equipment used at IEMN allows dynamic measurement of material properties, as well as imaging of the sample before or after indentation. This technique is very useful for NEMS and for viscoelastic materials from which we can extract the loss modulus.
The non-contact characterization and 3D display by an interferometric optical profilometer-vibrometer (ZoomSurf 3D Fogal) allows the realization of static profiles and vibratory properties of micro-systems, the imaging of mechanical constraints,...
Non-contact characterization of thermomechanical stresses under air or N2 is possible on substrates up to 8″ (FSM 500TC): residual stresses of thin films, thermomechanical stress deformations up to 500°C,...