« Materials Nanostructures and Devices » Department
The « Materials Nanostructures and Devices » department combine the most fundamental research investigated at the IEMN. The department includes the activities of 5 groups :

Studies focus on thin films, heterostructures, periodic structures (2D, 1D, 0D), optics, acoustics, optoelectronics, nanotechnologies, organic electronics and bio-inspired electronics. Experimental and theoretical works are carried out in these topics.
These topics are integrated into most of the IEMN's flagship projects: Life On Chip (NCM, Physics), Telecom UHD (EPIPHY, Physics, SubLambda), Smart Energy (EPIPHY, NCM, Physics, SubLambda), Neuromorphic Technologies (NCM), IoT (Physics, SubLambda).
MATERIALS
Elaboration and characterization of organic-inorganic composite nanomaterials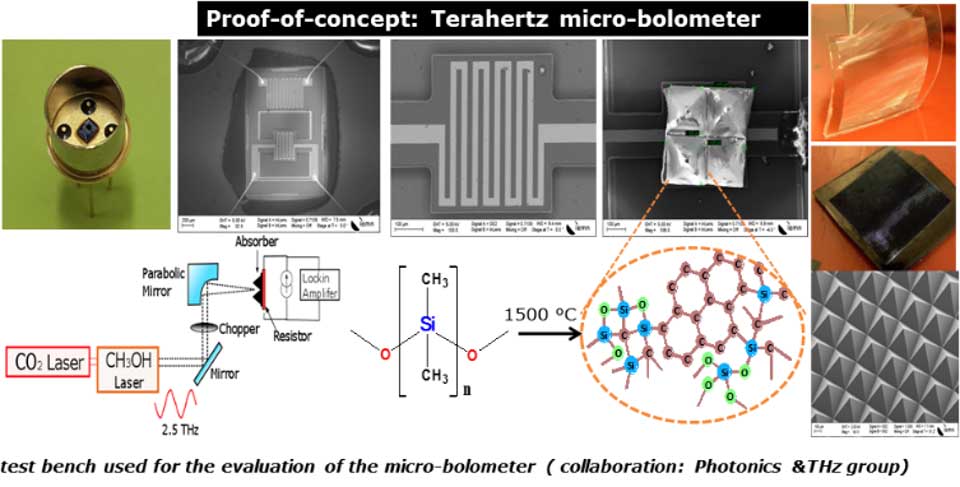 .     Polymer-derived carbon materials for THz wave absorption
.     High temperature thermoelectric materials
Structure and dynamic properties of materials
.     Numerical modelling of the thermodynamics and the physico-chemistry of nanostructure systems, macromolecular aggregates and biological molecules in fixed conditions of temperature and pressure, and under constraints (mechanical, chemical, thermal).
.     The range of physico-chemical phenomena of interest extends from the supramolecular order to interfacial adhesion and aggregation, microscopic mechanics and radiation damage in biomolecules.